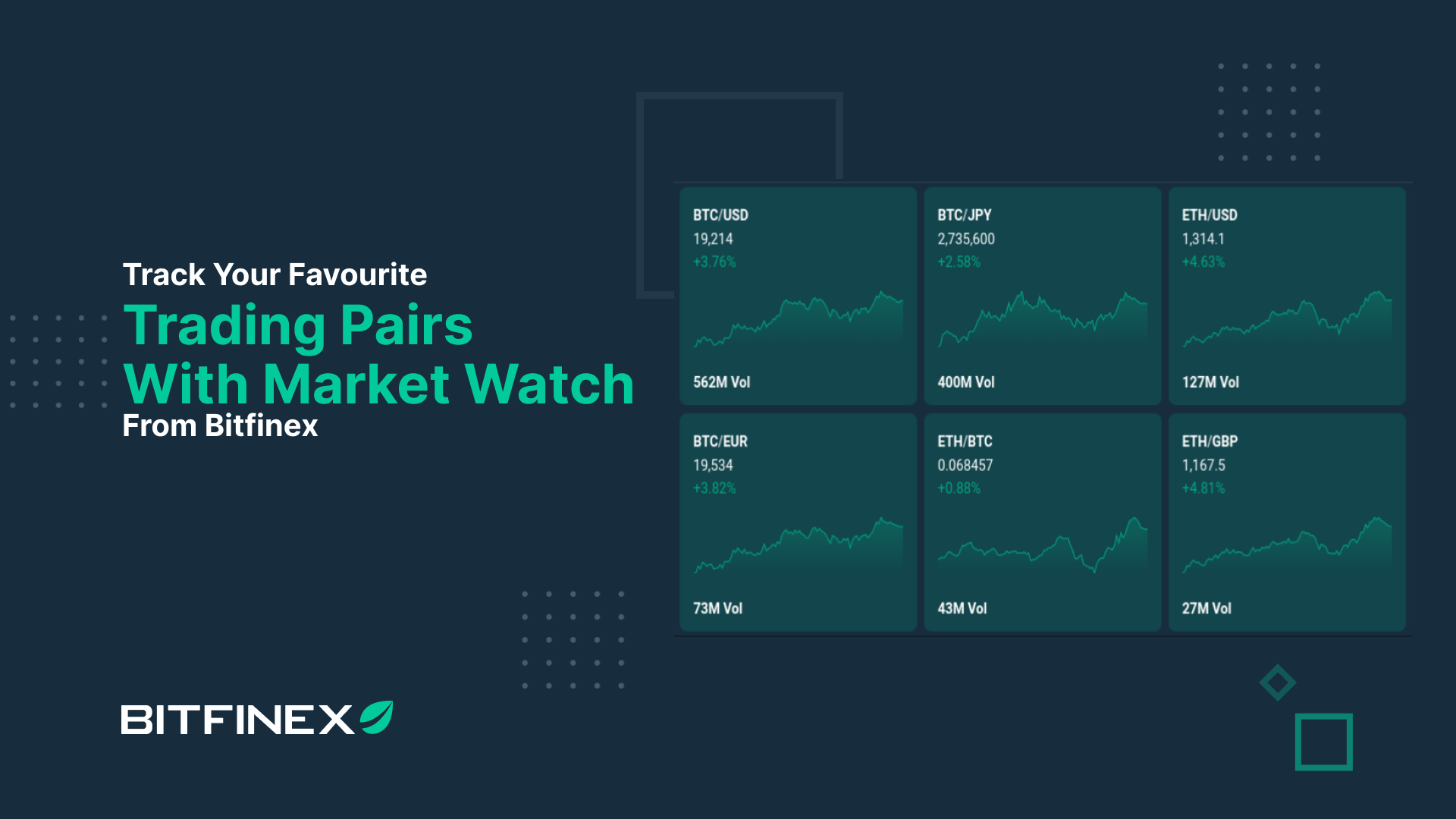 ROAD TOWN, British Virgin Islands – October 5, 2022 – Bitfinex (https://www.bitfinex.com/), a state-of-the-art digital token trading platform, has launched Bitfinex Market Watch, a feature providing a visual representation of leading trading pairs on the platform. Bitfinex customers can now keep track of their favourite markets and digital token trading pairs in real time.
Bitfinex Market Watch, which can be viewed in a separate window of a customer's screen, enables Bitfinex customers to add multiple digital tokens and displays trading pairs in a customisable tile layout, providing real-time market analytics at a glance.
"With the launch of this new Bitfinex Market Watch feature we're providing our customers with a visual representation of price movements on trading pairs, offering a guide that some may find more intuitive for helping them to inform trading decisions," said Paolo Ardoino, CTO at Bitfinex. "The launch of this new feature underlines our commitment to providing a professional trading experience to our growing customer base."
Bitfinex customers can customise the feature to view top trading pairs by volume or the best and worst performers over the previous 24 hours. Tiles include essential information such as digital token tickers, price, volume, 24-hour volume and a 24-hour chart for each pair. A trader can also customise the layout of the feature and add favourite digital token pairs and track the coins that are most of interest.
Bitfinex is leveraging its position as one-stop shop for digital token trading offering a variety of services, including spot and margin trading, staking, and borrowing.
*All users of www.bitfinex.com are subject to Bitfinex's terms of service ("TOS"). Please note that U.S. persons (as defined in the TOS), among other prohibited persons (as defined in the TOS), are strictly prohibited from directly or indirectly holding, owning or operating an Account (as defined in the TOS) on www.bitfinex.com.
##
About Bitfinex
Founded in 2012, Bitfinex is a digital asset trading platform offering state-of-the-art services for digital currency traders and global liquidity providers. In addition to a suite of advanced trading features and charting tools, Bitfinex provides access to peer-to-peer financing, an OTC market, and financed trading for a wide selection of digital assets. Bitfinex's strategy focuses on providing unparalleled support, tools, and innovation for professional traders and liquidity providers around the world. Visit www.bitfinex.com to learn more.