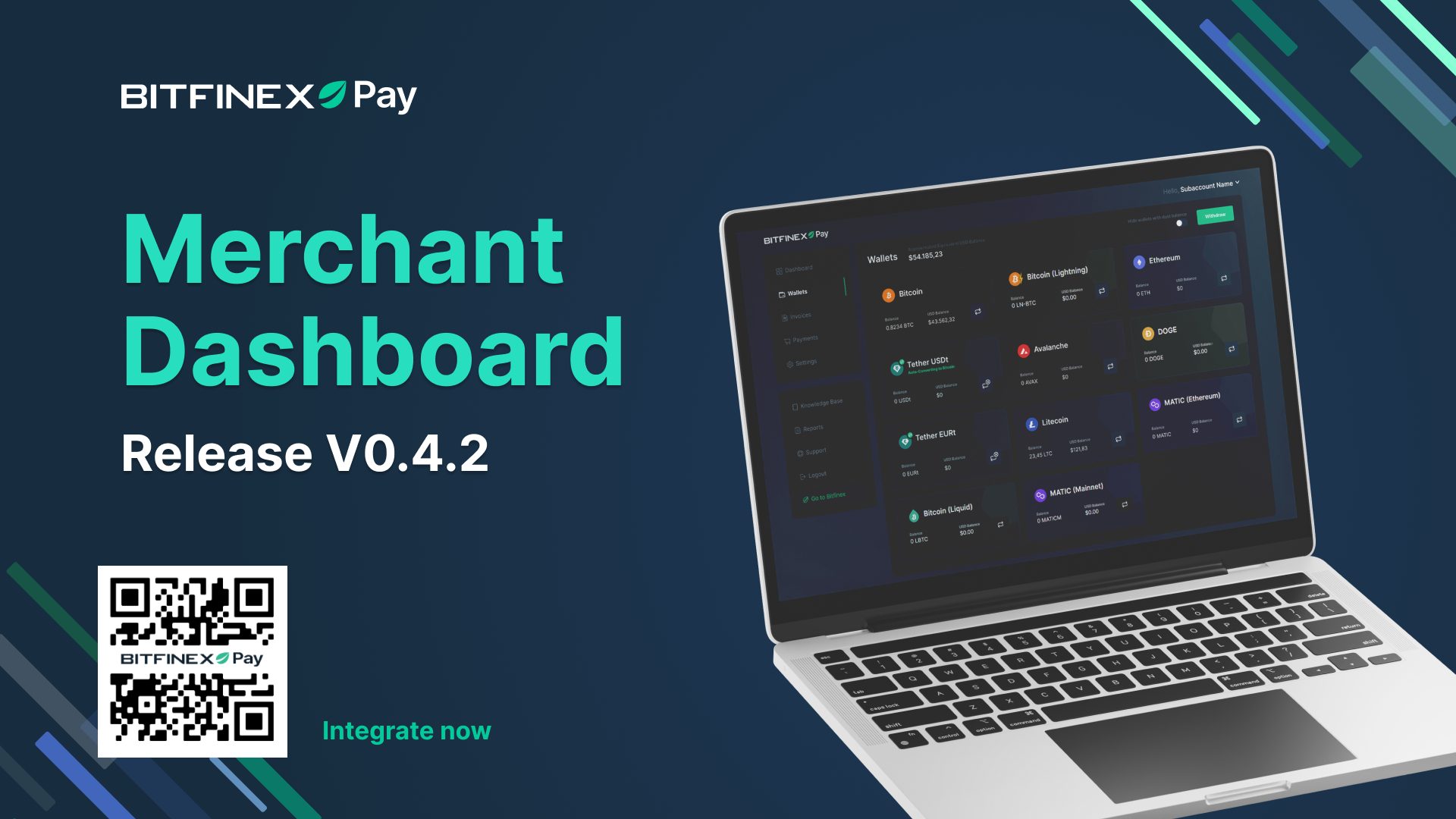 20 Jul

Bitfinex Pay Merchant Dashboard – Release V0.4.2

The Bitfinex Pay Merchant Dashboard is an internal tool designed to provide our Merchants with powerful reports and features to manage their Merchant crypto gateway.

We're pleased to share the latest updates to Bitfinex Pay. For more on Bitfinex Pay, please refer to https://blog.bitfinex.com/category/bitfinex-pay/.
Merchant Dashboard
Features
Amount of elements are now shown in all lists, including "Invoices", "Payments", etc
Improvements
Improved the format of amounts in "Wallets" to accommodate larger fiat equivalent amounts
Amount fields in the Dashboard are no longer editable by scrolling
The merchant logo in "Invoice Customization" now shows a preview
State/county is now optional in the "Manual Invoice Generator"
Invoice previews can now be swiped in mobile in the "Settings -> Invoice Customization" menu
Removed an unnecessary scroll bar in "Invoices ->Invoice Details"
Removed an unnecessary scroll bar in "Wallets"
Added a tooltip providing extra information about the automated emails behaviour in the "Settings -> Communications" menu
Tether Polygon has been grouped with the rest of USDt payments methods in the "Tokens Enabled" field in "Invoices > Invoice Details"
Invoices in preview mode are no longer "clickable" in "Settings -> Invoice Customisation"
The "Invoices" menu design has been improved in order to better utilise space
Fixes
Added a missing icon in "Invoices -> Invoice History" for "Invoice Manually Marked as Completed" events
Fixed an issue showing a "null value error" when duplicating invoices without state/county
Design fixes on invoice preview in "Settings ->Invoice Customization"
Fixed an issue causing some elements of the "Settings >Invoice Customisation" menu to be saved individually instead of doing so when clicking on the Save button
Fixed an issue causing the Merchant Dashboard not to be loaded properly when accessing from the Bitfinex Pay landing page
Invoices previews now show the correct header
End Customer Payment flow
Improvements
Bitfinex login page redirection now only happens if the user selects the "Pay with Bitfinex" payment method
Improved the token naming in the Wrong Metamask Network menu
Fixes
Fixed an issue that caused the end user feedback form to be transparent in the "Payment Successful" screen
Fixed an issue that caused merchant payment confirmations to be shown on the invoice payment flow
Several white-label design fixes
---
Start accepting crypto payments with Bitfinex Pay today: https://pay.bitfinex.com/.