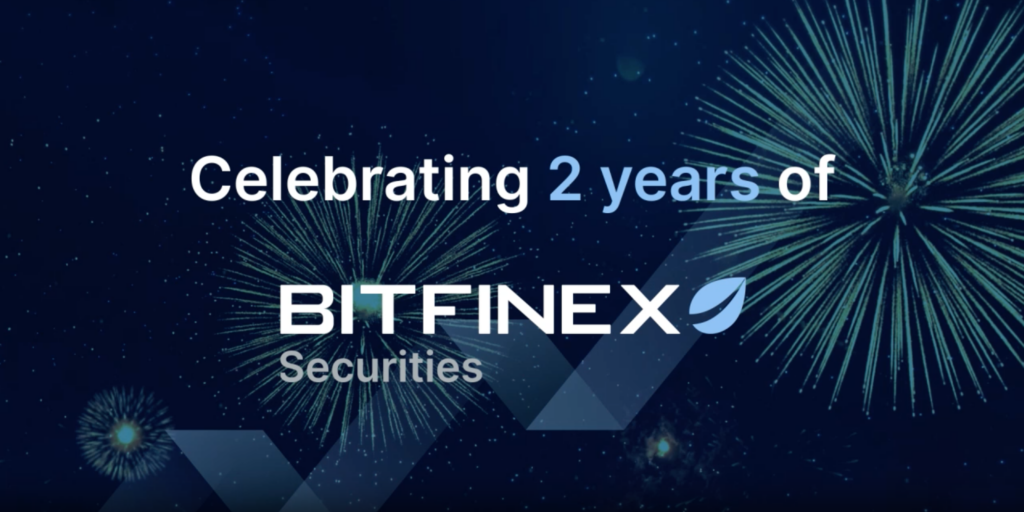 06 Sep

Bitfinex Securities Two year Anniversary: Disrupting the Traditional IPO Landscape

In the fast-paced world of finance, two years can signify a lifetime of change, and that's especially true for Bitfinex Securities as it marks its second anniversary. Pioneering the evolution of Security Token Offerings (STO), Bitfinex Securities has been instrumental in redefining how we think about asset tokenisation and its potential to disrupt the traditional Initial Public Offering (IPO) process.

Bitfinex Securities is poised to offer an extensive range of services that will open doors to novel funding avenues, all while expanding the pool of financial products available to investors. This includes, but is not limited to, equities and bonds that are underpinned by blockchain technology.

In simpler terms, the platform is set to unveil a suite of cutting-edge financial instruments aimed at delivering fresh opportunities to companies and entities that have historically been marginalised or underserved in the financial markets. For investors, this means enhanced access to an array of inventive financial assets that may not have been easily accessible or may be a brand new type of investment that may not have ever existed at all, in traditional markets.
The Dawn of Security Tokens
Before delving into the importance of Bitfinex Securities, it's essential to understand what security tokens are and how they work. In essence, security tokens are cryptographic tokens that represent a share in an underlying asset, like real estate, stocks, or bonds.
These tokens are subject to security regulations, ensuring that they are compliant with the law. What sets them apart from traditional securities is their use of blockchain technology to offer advantages like lower costs, broader market access, and enhanced transaction speeds.
Read our article about STOs to learn more.
Why Bitfinex Securities is a Game-Changer
With STOs, investors gain unparalleled control over their capital and risk management. Real-time settlement and 24/7/365 trading offer a dramatic upgrade to conventional securities trading, attracting mainstream institutional investors as well as astute individuals looking for cutting edge investment opportunities. Bitfinex Securities takes advantage of technologies like Blockstream's Liquid Network, a Bitcoin sidechain with expanded smart contracting capabilities, to strike a careful balance between meeting regulatory obligations and ensuring investor freedom.
In 2022, Bitfinex Securities made waves in the financial world by becoming the first platform to list the Blockstream Mining Note (BMN). This served as a proof of concept, showcasing what tokenised securities can truly offer. Whitelisted customers found new freedoms in their ability to withdraw, self-custody, trade, and even move assets peer-to-peer, essentially turning the tables on legacy security markets.
Global Expansion and Regulatory Milestones
This year has been a monumental year for Bitfinex Securities. Not only is the platform expanding globally, but it has also recently broken new ground by being the first digital assets trading exchange to receive a licence under El Salvador's new Digital Asset regulatory regime. Bitfinex Securities proudly received the first-ever Digital Asset licence in El Salvador, shortly after the country enacted its historic Digital Asset Securities Law (DASL). This positions Bitfinex Securities as a pioneer in the rapidly evolving regulatory landscape surrounding digital assets.
This historic milestone aligns with El Salvador's radical adoption of Bitcoin as legal tender, and furthers the vision laid out in Bitfinex's Freedom Manifesto. The licence enables Bitfinex Securities to offer a host of innovative financial products, including tokenised equities and bonds, while simultaneously paving the way for small and medium-sized companies, as well as governments, to raise capital within a regulated framework.
In line with the principles of financial freedom and inclusion, the move is set to revolutionise the way entities can access funding and how investors can interact with a wide range of financial assets. Bitfinex Securities' commitment to leveraging open networks, cryptocurrency, and decentralised P2P technologies is supercharged by this licence, marking a seismic shift for the future of tokenised securities as an asset class. It also solidifies El Salvador's emerging role as a global pioneer in the adoption of digital assets, thereby offering a credible, regulated platform for a disruptive global tokenised security market.
In another strategic move that underscores its commitment to the burgeoning security token industry, Bitfinex Securities recently inaugurated a new regional office in Astana, Kazakhstan. Situated within the Astana International Financial Centre (AIFC), a nexus for financial and business activities across Central Asia and beyond, the new office marks a significant milestone for the company. Jesse Knutson, Head of Operations at Bitfinex Securities, emphasised that the physical presence in Astana is the "logical next step" in their global expansion, particularly given their existing relationship with regional regulators and their registration in the AIFC.
The office will serve as a conduit for regular and direct engagement with the Astana Financial Services Authority (AFSA), signalling Bitfinex Securities' optimism about the role of security tokens in the future growth of Kazakhstan's economy. The move also aligns with Kazakhstan's progressive stance toward digital assets and financial technology, further consolidating the nation's reputation as an increasingly attractive hub for digital asset companies.
Beyond the IPO: The Future is Tokenised
What Bitfinex Securities brings to the table is more than just a high-tech way of trading assets; it's a reimagining of what the asset market could be. While traditional IPOs have been the go-to method for companies to raise capital, they are often costly, time-consuming, and laden with regulatory red tape. STOs bypass many of these hurdles, providing a more efficient and democratic way for companies to go public.
The emergence of tokenisation technology is set to significantly transform the world of securities trading and investment. By digitising traditional forms of securities such as equities and bonds through blockchain, entry barriers are diminished, facilitating easier access to capital for small and mid-sized enterprises.
For investors, this translates to expanded investment avenues and an array of advantages including instant trade settlements and round-the-clock trading—features not available in conventional securities markets. The robust cryptographic safeguards built into blockchain technology offer enhanced security for transactions, and the ability for individual investors to manage and trade their assets directly presents an unprecedented level of control.
As the technology behind tokenised securities continues to evolve, it's anticipated to attract a fresh influx of both institutional and individual investors, potentially expanding into a market worth trillions of dollars that may challenge or even outperform the scale of traditional securities. This digital shift brings with it increased efficiency, greater transparency, and a more inclusive financial ecosystem, all of which promise to redefine the global capital markets.
As Bitfinex Securities celebrates its second anniversary, it's clear that its influence on the traditional IPO process is significant and growing. With technological advantages, a focus on investor freedom, and a pioneering spirit, Bitfinex Securities has successfully showcased that the future of asset trading and capital-raising is tokenised. As the world catches up, it's a future that looks incredibly promising.