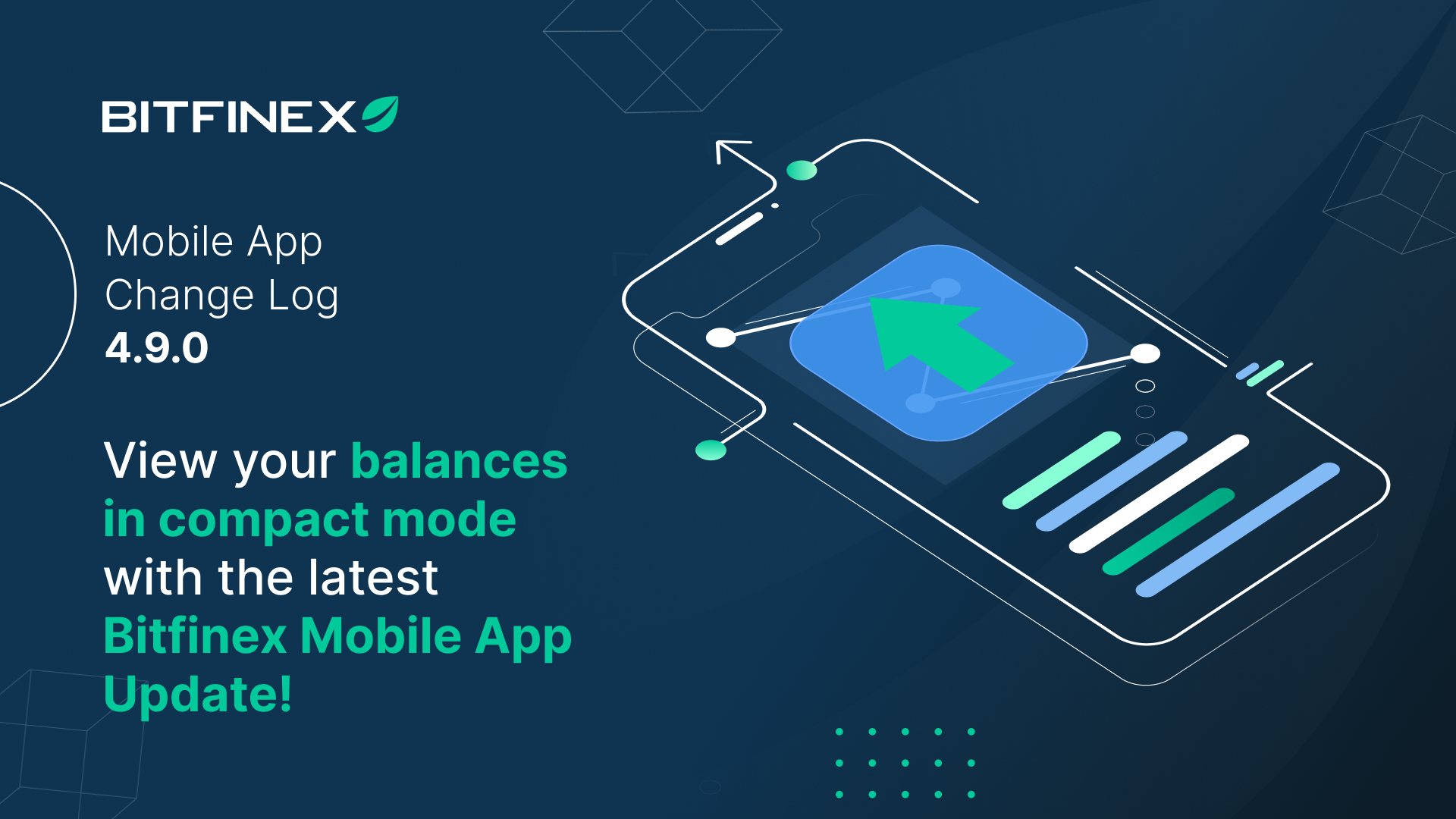 Recent updates and optimisations to the Bitfinex mobile app
We're pleased to present Version 4.9.0 of the Bitfinex mobile app.
The latest update to the Bitfinex mobile app includes the launch of a compact view for wallets balances.
The below changes have been suggested to us by our active user base. Feedback from our customers is incredibly valuable to us.
Download the latest version of the Bitfinex mobile app and help us to continuously optimize the Bitfinex mobile app by telling us your experience with a review in the app stores.
You can also download the latest version of the Bitfinex mobile app from the Android Application Package (APK).
---
Feature
Compact view for Wallets Balances
Improvements
Mobile log in record is now shown in Reports
SDK and libraries upgrade
Addition of new icon for Solana perpetual contract*
Earnings of wire tokens (e.g. JPY, GBP) are now shown
Related setting now opens for users without the required permissions before being able to proceed with card payment
Permissions moved to the top of the Account page in the Account tab
Feedback form opens when a user selects no in the satisfaction dialog
'Colourblind' theme is now spelled as 'Colour blind'
Refactored Order Book for improved performance
Updated translations for Russian, Spanish, as well as traditional and simplified Chinese
Bug Fixes
When tapping the back button on the 'Name & Contact' screen, the user will return to the Account page instead of Verification
Fixed issue of view overflow in Wallets Balances for certain devices
Fixed 'Create' button overflow in the 'Create group' screen of Bitfinex Pulse
Fixed issue of screen title not changing according to language settings
Fixed title style for the Bitfinex Borrow modal
Fixed redundant space of the order history panel
Fixed redundant space while create the pulse post
Fixed full order history link not working
*The derivatives platform is provided by iFinex Financial Technologies Limited. References to Bitfinex Derivatives in this post are references to iFinex Financial Technologies Limited.
---
To share any further feedback, please complete the Bitfinex mobile user app survey or join the Bitfinex Telegram channel.