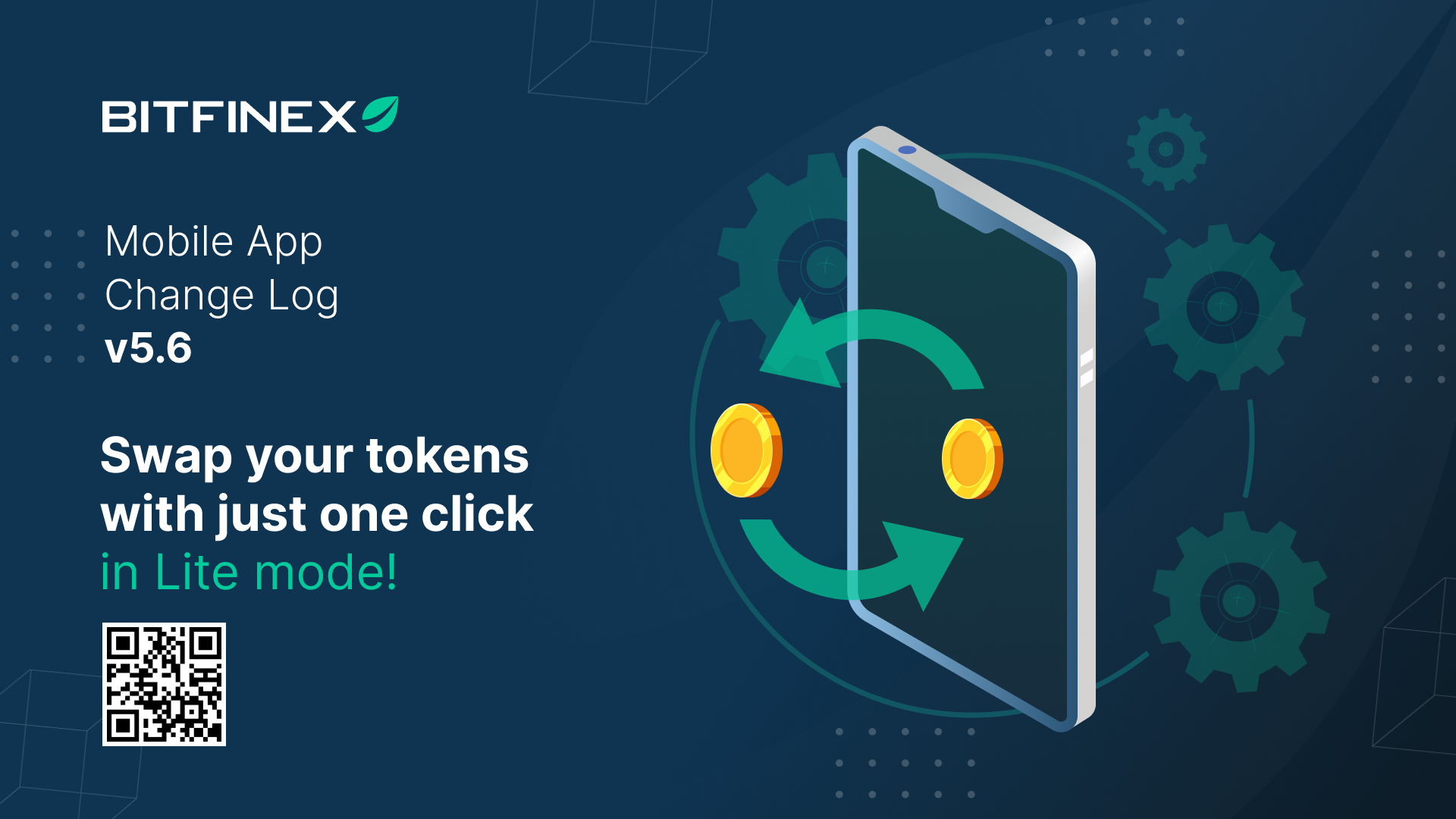 Recent updates and optimizations to the Bitfinex mobile app
We're pleased to present Version 5.6.0 of the Bitfinex mobile app.
The latest update to the Bitfinex mobile app includes a token swap option in Lite mode.
You can also download the latest version of the Bitfinex mobile app from the Android Application Package (APK).
Please share your experience by leaving a review in the app stores too! The below changes have been suggested to us by our active user base. Feedback from our customers is incredibly valuable to us.
---
Features
Addition of token swap option when in Lite Mode
Added the option to deactivate account
Color token icons now added within the app
Support to quick share the trading chart via a screenshot
Support to easily add a hashtag when creating a post using Bitfinex Pulse
Improvements
Added CHSB, CRV, GRT, ICP, NEXO, REQ, SAND, SHIFT, THETA, WAVES token icons
Improved sign up user interface
Updated text style for sign up links
Updated "Log In with API Key" as text link
Localization of the the hCaptcha verification page
Improved one-time password (OTP) process
Improved log in user interface
Support of stablecoins(such as Tether, DAI, TUSD) shown as "cash" in the Wallet Composition chart
Support of UnionPay in Mercuryo payment method
Improved Fast Pay component screen orientation to lock as portrait mode
Improved to display keyboard when auto-focus on the login page for Android devices
Addition to auto fill the Affiliate code on the Sign Up page
Removal of the Sub Account button in the Borrow Positions model
Improved the translation for Ticker columns
Improved conversion of comma to dot in Fast Pay when inputting an amount (for some iOS keyboards)
Optimized to show loading icon when changing order form amount
Hide or disable not usable dashboard items for Paper Trading accounts
Optimized all dropdown selection performances
Updated translations for Russian, Spanish, Turkish, Portuguese, as well as traditional and simplified Chinese
Bug Fixes
Fixed issue of order form showing an error when entering a big number
Fixed issue of showing a Terms of Service broken link on the sign up page
Fixed Simplified Chinese and Spanish text links on the sign up screen
Fixed issue of label overlapping in the Portfolio exposure chart
Fixed issue of Share Position modal in Bitfinex Pulse always showing BTC/USD pair
Fixed issue of Derivatives* wallet wrongly labeled as Margin wallet in Wallet Balance's slide in menu
Fixed issue of validation for deposit from Simplex
Fixed issue of order form crashing when switching between Lite and Pro mode
Fixed issue of Verification/Reports pages not opening for selected languages
Fixed issue of Invalid 2FA error showing when logging in via email
Updated the deposit input field alignment
Fixed issue of "Max" button not working in Currency Conversion when there is a small amount of balance
Fixed issue of Pulse crash when create new post on Android 12
Fixed login issue when U2F enabled
*The derivatives platform is provided by iFinex Financial Technologies Limited. References to Bitfinex Derivatives in this post are references to iFinex Financial Technologies Limited.
To share any further feedback, please complete the Bitfinex mobile user app survey or join the Bitfinex Telegram channel.