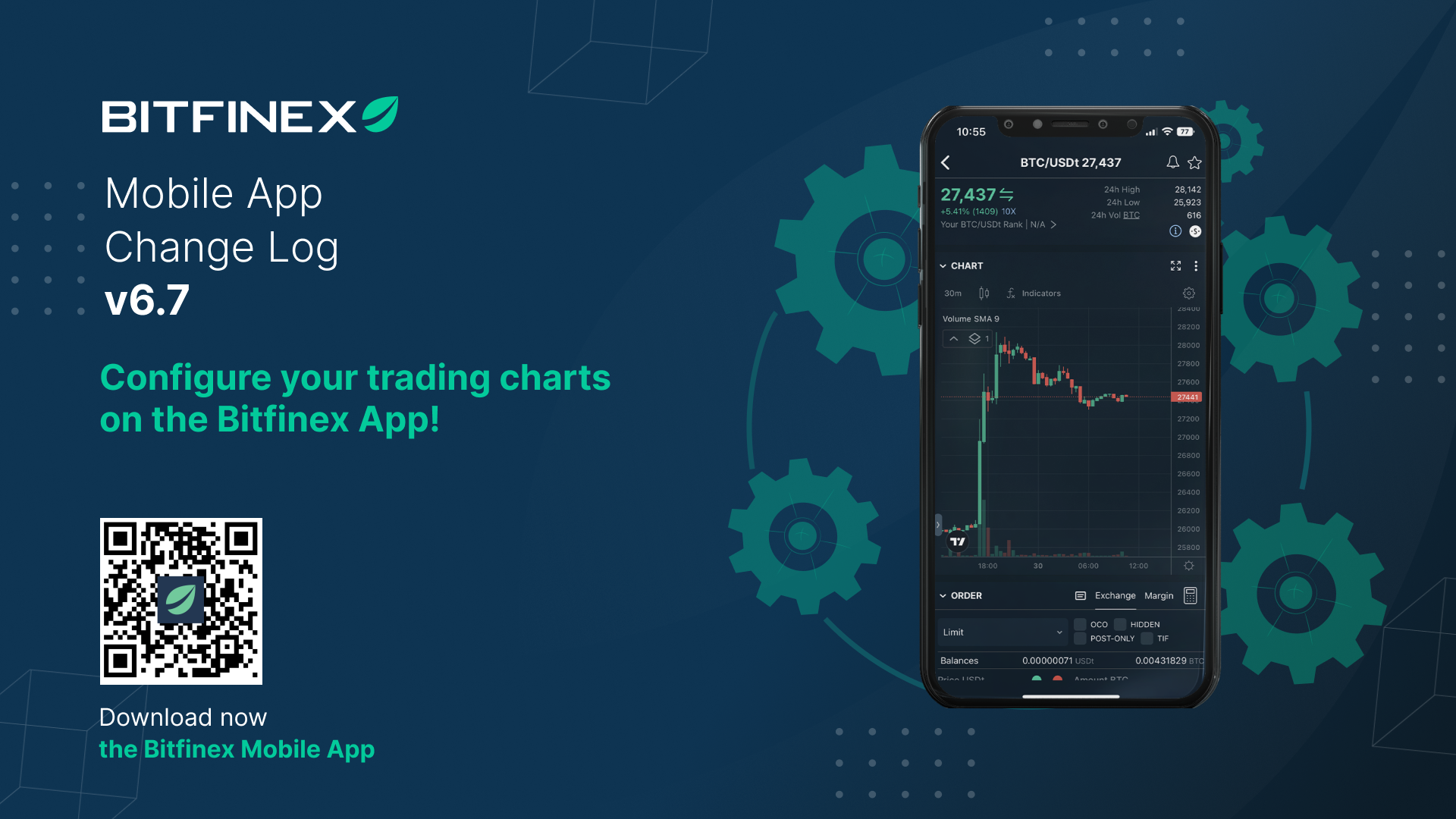 30 Aug

Mobile App Change Log 6.7

Recent updates and optimisations to the Bitfinex mobile app

We're pleased to present Version 6.7 of the Bitfinex mobile app.

The latest update to the Bitfinex mobile app includes an improved trading chart with additional settings and other general improvements.

You can also download the latest version of the Bitfinex mobile app from the Android Application Package (APK).

Please share your experience by leaving a review in the app store or by completing the Bitfinex mobile user app survey! The below changes have been suggested to us by our active customer base. Feedback from our customers is incredibly valuable to us.
---
Trading
Added fee discount banner for newly listed tokens
Added SEI token icon
Fixed the issue of Trading Pair crash
Corrected the translation for the "Provided, Time, Distance, feature."
Chart
Decreased font size for better visibility
Added a new option in the settings to configure the chart
Fixed issue where chart reset did not reflect changes on the web
Removed labels that blocked candles
Fixed the issue of the chart not updating based on language settings.
Stake and Borrow
Removed BTC and ETH options from Lite Mode Lending
Fixed the ability to deposit fiat funds through Bitfinex Borrow
Wallet
Improved the validation check for withdrawals
Updated the Bitcoin Lightning icon
Added a helpful note for Deposit and Withdrawal processes
Introduced a Sort code field for OpenPayd GBP transfers
Updated to now open withdrawal/Greenlane links in an external browser
Fixed the translation issue in the Calendar Selector
Enabled the purchase of stable coins with a Basic Plus account for Simplex and Mercuryo
Removed the option to buy via TRY for Simplex
Fast Pay
Fixed the Terms of Service for the Fast Pay merchant map
Updated to show error messages for Fast Pay 2FA
Others
Improved the signup 2FA process
Updated the Account verification levels
Fixed issues with push notifications
Fixed the issue of the app re-launching normal UI displays for Paper Trading accounts
Fixed the issue of automatically switching back to the Trading screen after changing to Lite mode
Updated translations
You can also share your feedback with us by joining our Bitfinex Telegram channel and Discord community.