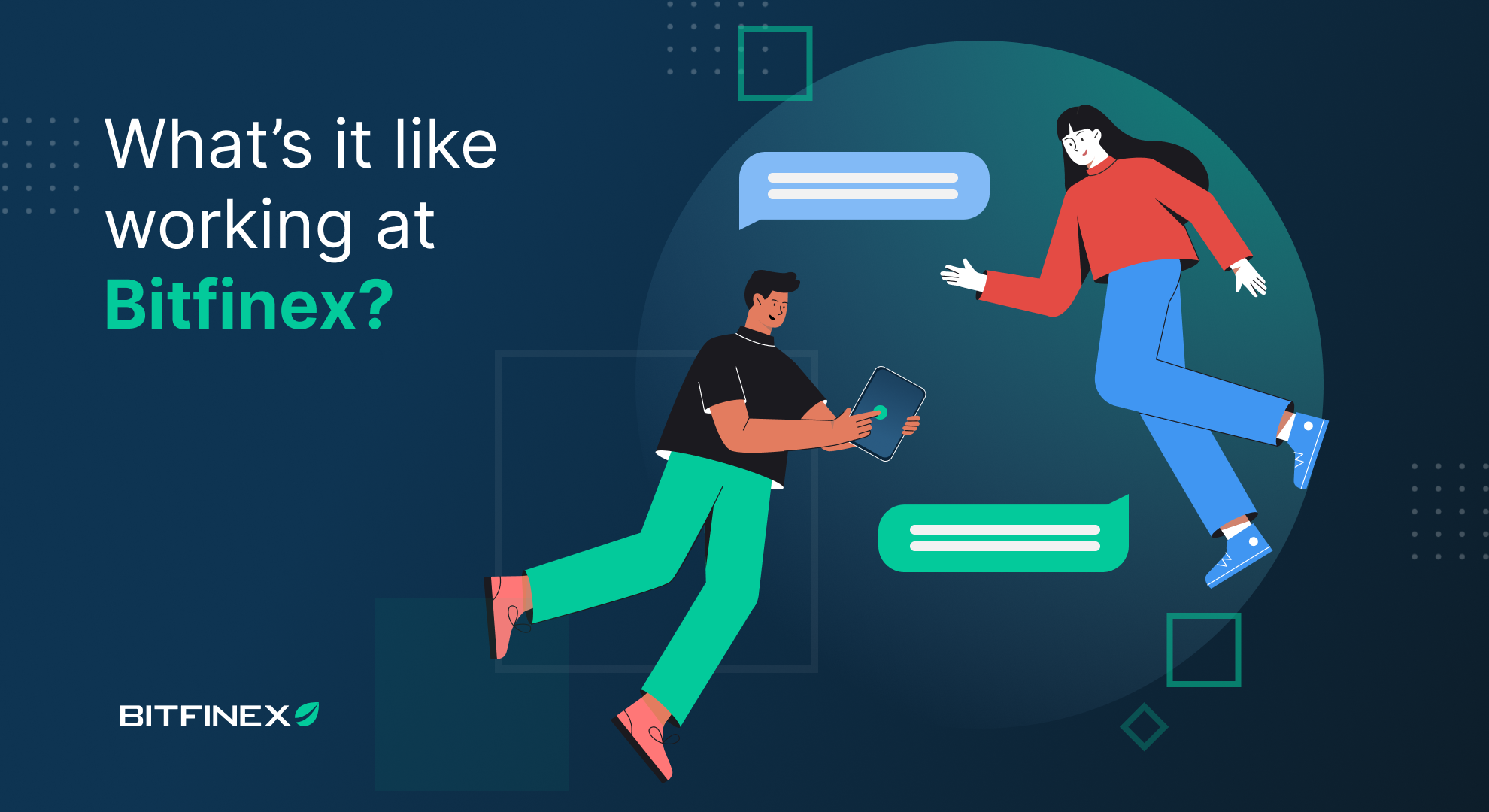 One of the things we love the most about Bitfinex is that we hire many amazingly talented people regardless of their geographical locations* in the world.
We believe that great talent is everywhere, and we don't want to miss our chance of getting the best people on our team due to geographical limitations.
As a remote-first, tech-driven company, Bitfinex has a strong culture and values that we share across our development teams. We're aware that chemistry is vital for both parties; thus, we want to make sure that we're on the same page when it comes to work and expectation before either party makes any decisions.
Here are some of the qualities we're looking for in our developers:
Way before lockdown 2020, our teams were 100% remote, we believe that the flexibility to work around your lifestyle makes a happy developer, happy developers make a better Bitfinex for everyone. We get that warm fuzzy feeling from our developers as we know they have our back, as much as we have theirs and we won't let each other down.
We offer a flexible working arrangement where you can tell us when you're available to respond to direct messages within a reasonable amount of time. We trust all our developers to be available on Slack during their office hours to support their teams. But in some cases, it's important for our developers to be ready and available to help when the unexpected happens. In such incidents, which we see less and less these days, you'll need to be present and active to collaborate with your team.
We want to be clear about this upfront to avoid surprises later, as this may not be for everyone but we can promise you the work you do is rewarding and helps us all achieve Bitfinex's mission to help drive the financial revolution.
The ability to work independently
We don't micro-manage; thus, we want our developers to have the ability to work and make decisions independently. We encourage everyone working with us to be able to complete their duties and reach their goals autonomously.
Our codebase is made by a constellation of different sub-projects. So, each of our developers will eventually end up managing his or her own project. You will have the chance to make key decisions, and you will be the face of the successes and issues of that project. That said, it doesn't mean that you will be working alone.
You will need to be a good team player. Someone who can provide and receive feedback for/from the team. We prefer not to have "rockstars" and "primadonnas" on the team.
We are all working together to create a friendly and inclusive working environment, where no one feels ashamed of raising their hands to ask questions or give feedback.
One of Bitfinex's greatest strengths is having a very rich and empowering community that consists of talented people from all around the world that collaborate.
A high degree of excellence
What we sell to our customers is trust. As one of the longest-running exchanges in the cryptocurrency exchange business, Bitfinex has an impeccable track record of providing reliable services to our users as well as the crypto community at large.
But as the saying goes, "Trust is built in drops and lost in buckets", we can't afford to lose that hard-gained trust with buggy releases and mediocre products. This means that our job is to do our best to deliver the highest quality code possible and allocate time on tests/QA/and whatever-you-think-is-needed to provide a bullet-proof experience.
You have to work as if every line of code you are going to ship could affect the destiny of the whole company, because, believe it or not, it actually is. One of the many benefits working at Bitfinex brings is the tools you work on will be used in the long term shaping of the financial sector, not hiding away from the public view.
#TL;DR
Be professional.
Be independent – able to work without close supervision.
Be available in-office hours and when unexpected things rarely happen.
Be a team player – be humble, be able to accept/provide feedback, and cooperate with your teammates.
Be product and quality-oriented.
Check out what our developers have to say about working at Bitfinex!
"Working as a dev at Bitfinex means you're going to deal with challenges that will improve your skills every day. With a team that consists of experts in their field that's very supportive, you'd dare to take and be able to tackle those challenges. Everyone here is very professional, nice, and humble, yet very good at what they do," ~Jirat, Thailand.
"We have a great working culture at Bitfinex. We're working remotely from different parts of the world, so it's quite flexible. Once a year, we have devs meeting where we spend the week together working and having fun. I feel proud to be a part of Bitfinex's devs team. We all get opportunities to create cool things, participate in the development of new products while working on improving what we have now," ~Eugene, Russia.
"I started working at Bitfinex right at the start of the 2020 lockdown so was a little worried about being able to fulfil my role and support my team whilst trying to manage the challenges that life threw at us that year. However, the management was great and allowed me to actually work and perform better with the flexibility they offered during the time. I work in the marketing department and there is a huge amount of talent which is shared between everyone. The culture at Bitfinex is around growth for the individual and for the cryptocurrency industry. If you have the desire and passion to learn, the company will support that and help you to grow your career within the company. Every week is different and I can easily say it's one of the best companies I've worked with. – Rick, UK
We hope it gives you a better idea of the work environment we have here on Bitfinex. If you're still interested and dare to take the challenge to become a part of one of the most advanced development teams in the world, we are hiring!
*Remarks/legal notes about restricted regions.
View our current openings here https://bitfinex.recruitee.com/